Centrex
Your telephone switchboard in the Cloud
Vianova Centrex is a multi-tenant platform dedicated to Vianova Partners.
The platform allows our Partners to provide Vianova Customers with a Cloud PBX service that adapts to businesses of all sizes and levels of complexity: from large organizations with thousands of users that need integration and customization through to call centers, hotels, stores, and small professional practices.
Each Customer gets all the features of an advanced PBX plus the flexibility, scalability, and security of a Cloud solution guaranteed by Vianova.
Centrex benefits from fixed-mobile convergence and, thanks to the integration with Vianova Phone, allows users to use their company extension on their smartphone.
Thanks to their technical skills, hands-on experience and local presence, Vianova's Partners are able to independently provide the best solutions for the design, sale, rental, installation, billing, and maintenance of the Cloud PBX service based on the Vianova Centrex platform.
Efficiency
Vianova Phone and CTI allow the services to be used even without a landline
ability to manage networks of thousands of telephone terminals, with services independent of geographic location
ability to move between sites (Hot Desking), keeping the same extension number and terminal configuration
Security
native virtual private network (VPN)
platform stability guaranteed by Vianova
recording, playback, and storage of conversations (GDPR-compliant Call Recording)
Savings
multi-site Customers share the voice channels of all the subscribed Vianova sites
calls to cell phones at 3 cents/min regardless of the subscribed Vianova profile
Compatibility
The platform is compatible with all terminals and standard SIP gateways, and your trusted Partner will recommend the best solutions for your needs.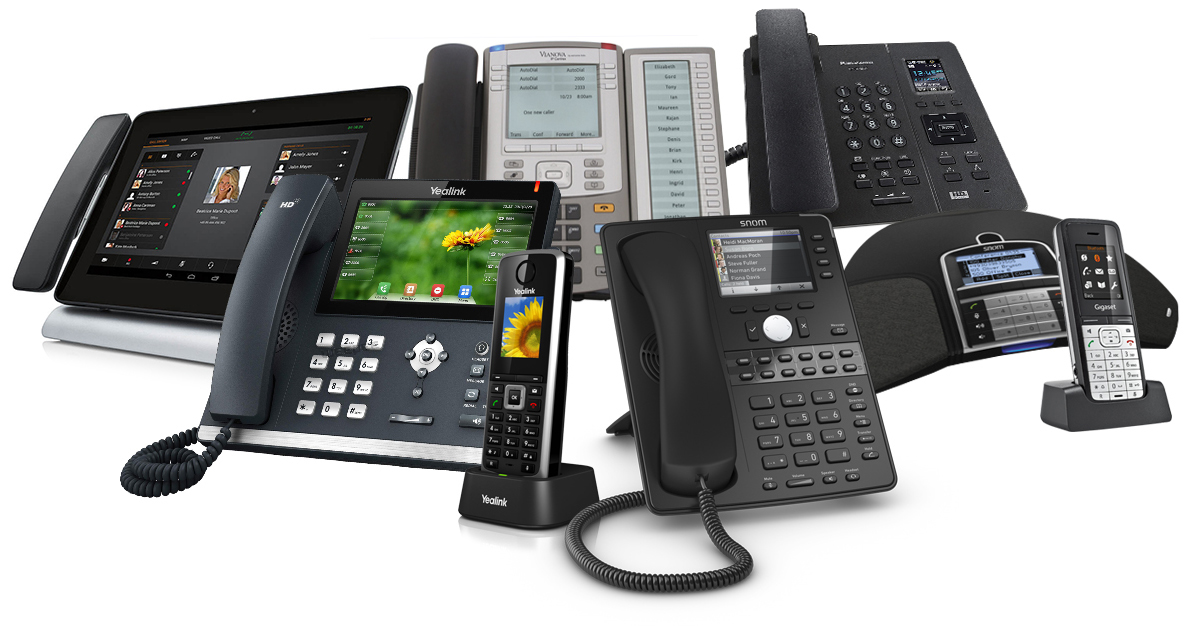 Vianova Phone Option
Vianova Phone is natively integrated with Vianova Centrex and is a very popular feature among our Customers, as it allows you to use your smartphone as an alternative to your PBX's telephone terminals.
You can use it with Wi-Fi or with your SIM card's data connection.
activation fee: included
monthly amount per Vianova Mobile user: included
monthly amount per Centrex-only user: Euro 6.00 with direct billing by your local Partner (the cost of the extension agreed with your Partner is not included)
Vianova Phone is your Centrex's native Voice Backup solution.
Ask your local Partner!
Explanatory diagram
The following diagram is a representation of a Vianova Centrex installation of a company with sites in Milan and Rome.
Colleagues from each location can move (mobility) from one site to another while keeping their internal phone number and the configuration of all the services of their telephone terminal.
At the Rome site there is a Call Center with a group of operators in ACD configuration.
People who work at the two sites can use all the telephone services (e.g. transfer, call forwarding, etc.) as if they were in the same location.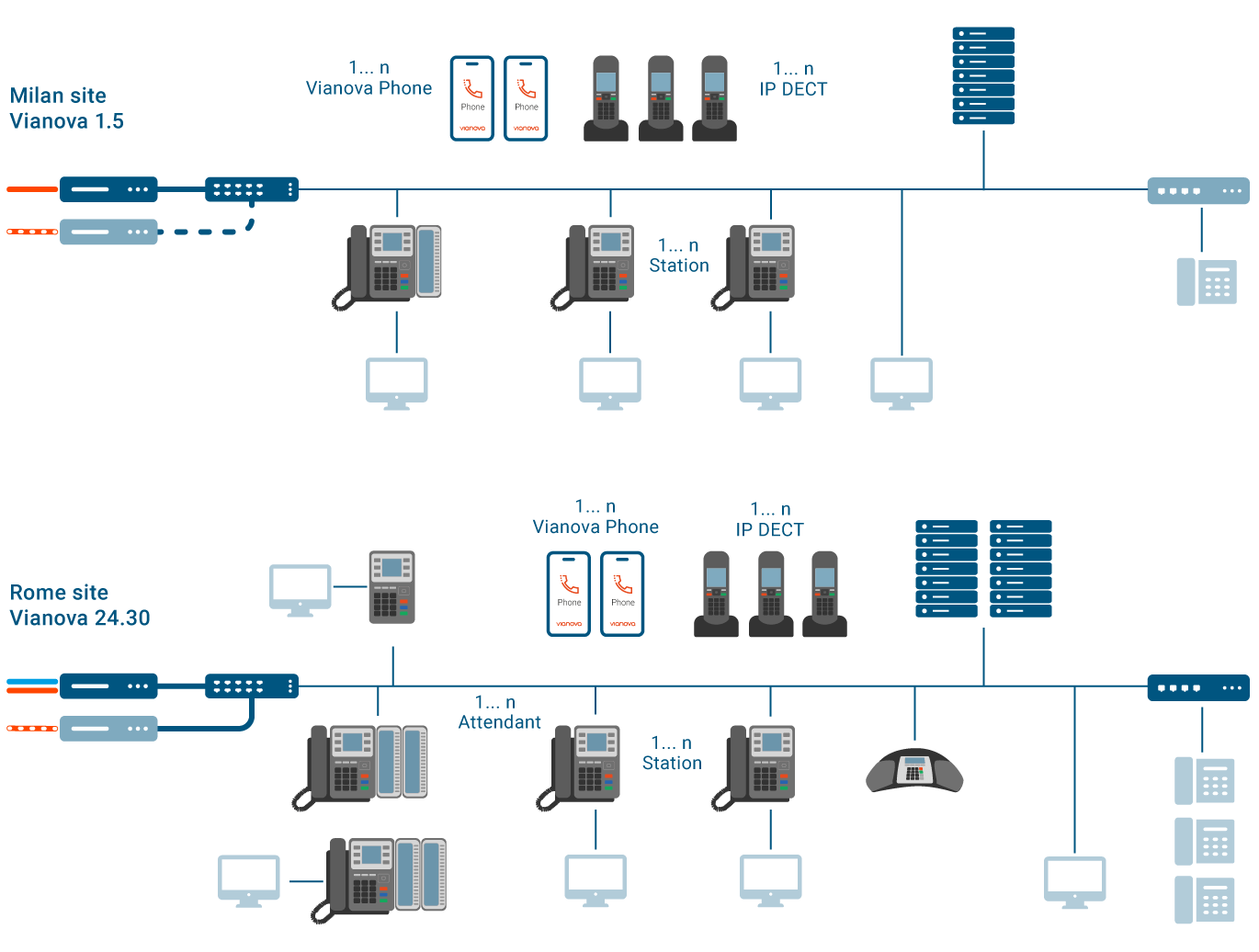 At a glance
architecture with local and geo-redundancy
platform updates without service interruptions
Voice quality (QoS) guaranteed by Vianova
native convergence with Vianova Mobile
compatibility with SIP telephone terminals
self-provisioning and remote terminal management
API for third-party application integration
native ACD for call center management
CTI to manage calls from PCs
Advanced multi-level IVR
Voicemail with voice messages sent to the user's mailbox
Attendant Console for specialized switchboard operator stations
Restrictions
+
a PBX can only be activated for active Vianova sites
call forwarding to an external number is not available for Vianova profiles with only one Voice channel (1.1 and 1.5.1)
in the case of multiple geographic locations belonging to the same Virtual PBX, the maximum number of simultaneous external conversations for each location is equal to the maximum number of Voice channels supported by the subscribed Vianova profile for that location (e.g. a 1.5.3 site can have up to 5 simultaneous conversations, a 6.12.8 can have up to 12, etc.)
the quality (QoS) of the Voice service is dependent on the Customer's LAN being configured correctly
when using Vianova Phone and CTI while connected to Wi-Fi networks, the quality of the Voice service cannot be guaranteed
Notes
+
the maximum number of simultaneous external conversations using a PBX is determined by the sum of the Vianova channels subscribed to by all the Customer's Vianova sites
the Vianova Centrex platform was created in collaboration with NetResults Srl, a company belonging to the Vianova Group
telephone traffic is billed by Vianova according to the rates set out in the subscribed Vianova profile
the costs of calls transferred to numbers outside the PBX (national, cell phone, international numbers, etc.) are as set out in the subscribed Vianova profile