Mail
Synchronize email, calendars, tasks, contacts, and notes across your devices
Mail is our suite of applications and services designed to help you increase your productivity by using email, calendars, tasks, contacts, and notes in your work.
All your information is stored in Vianova Cloud and is available at any time through your preferred work tools: PC, notebook, smartphone, or tablet.
456.8
million emails
forwarded by Vianova
in the last 12 months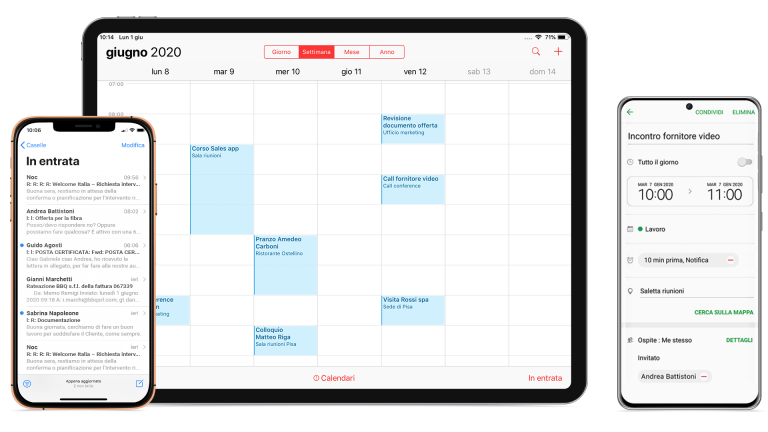 PC, tablet, and smartphone synchronization
Thanks to the ActiveSync communication protocol, your email messages, calendars, and contacts can be synchronized with the main operating systems for mobile devices (iOS and Android).
This allows you to read, write, and delete your emails from your PC, the web, your smartphone, or your tablet with total peace of mind, because Mail takes care of keeping your devices perfectly synchronized.
What's more, if your smartphone, tablet or notebook is lost, your data always remains up to date and available from other devices.
As soon as you have the new device, you can re-synchronize your data in a matter of minutes, without losing any information.
Antivirus and Anti-spam protection
The service distinguishes 'good' email from 'bad' email, blocking unwanted messages (spam, unauthorized advertisements, chain letters, etc.) and harmful emails containing viruses.
Unwanted email messages are kept in the 'quarantine' folder for 60 days and automatically and permanently deleted on the 61st day.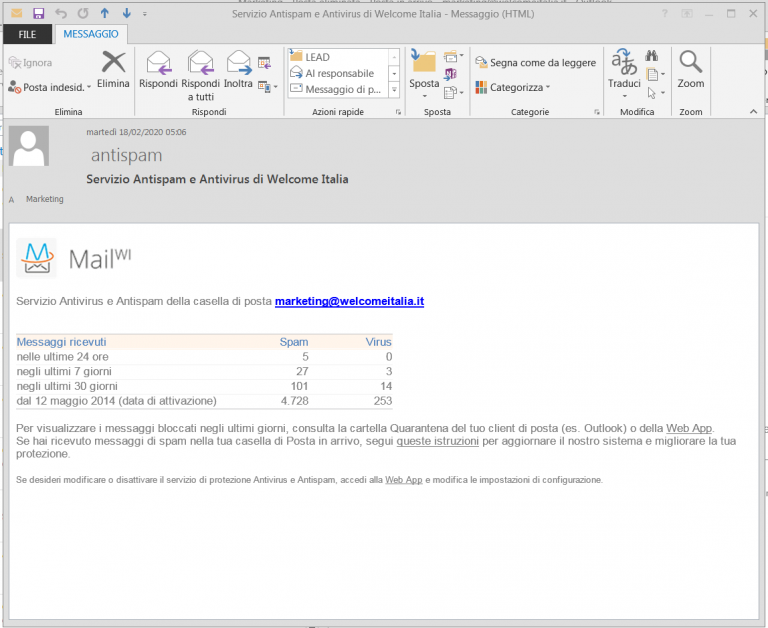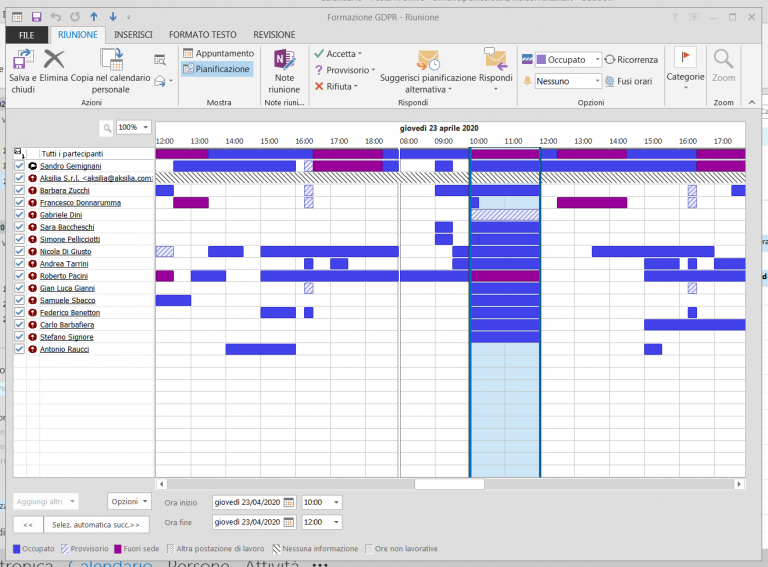 Microsoft Outlook integration
Thanks to the ActiveSync protocol, with native support starting from Microsoft Outlook 2013, you can use the main features of the service on your own email client. To make use of advanced features, the Kopano Outlook Extension (KOE) plugin can also be installed in a matter of seconds.
Mail's features and functionalities
Main features
Vianova
WebApp
Outlook
2007-2010
Outlook
2013-2016
Outlook, Mail (Apple), Thunderbird, ecc.
Mobile
(iOS, Android)
Communication Protocol
HTTPS
MAPI
ActiveSync
POP3
IMAP
ActiveSync
Support for Client Outlook 64 bit
Client's configuration not required
Installation of Plugin not required

only with native ActiveSync

only with native ActiveSync

Synchronization of Mail folders

except Draft folder

except Draft folder

Synchronization of Calendar folders
Synchronization of Contacts folders

main folder only, all folders are visible with plugin

main folder only

Synchronization of Activities folders
Synchronization of Notes folders
Creation of new folders

mail folders only

only mail folders that have to be signed up

mail folders only

Restoring of elements deleted in the last 30 days
Shared folders
Possibility to work offline

with cache profile
Mail
Vianova
WebApp
Outlook
2007-2010
Outlook
2013-2016
Outlook, Mail (Apple), Thunderbird, ecc.
Mobile
(iOS, Android)
Function "out of office"
Synchronization of flag "reply/forward"
Synchronization of flag "important" on email
flag Synchronization

6 colours

6 colours

only for red

Synchronization of categories

some categories not working on Thunderbird

Synchronization of rules
Permissions settings
Proxy mail settings
Flag for receipt confirmation
Flag for confirmation of reading
Modify field "From" for "send as" and proxy
Antivirus, Antispam and Junk email settings
Reply to all
Calendar
Vianova
WebApp
Outlook
2007-2010
Outlook
2013-2016
Outlook, Mail (Apple), Thunderbird, ecc.
Mobile
(iOS, Android)
Calendar availability (free/busy)

iOS only

Attachments in appointments
Contacts
Vianova
WebApp
Outlook
2007-2010
Outlook
2013-2016
Outlook, Mail (Apple), Thunderbird, ecc.
Mobile
(iOS, Android)
Creation and synchronization of contact groups
Global Address Book

only GAB of your domain is visible

supported

not supported

supported only with Kopano Outlook Extension (KOE) plugin
The service includes
unlimited number of POP3 or IMAP mailboxes, configurable as desired on your company domain (e.g. name.surname@example.com)
up to 360 Mail mailboxes based on the selected Vianova profile, configurable as desired on your own domain
up to 480 GB of email space based on the selected Vianova profile
centralized Antivirus and Anti-spam services
web access to email, calendars, tasks, contacts, and notes
integration with Microsoft Outlook thanks to the ActiveSync protocol
automatic synchronization of all fixed line and mobile devices used
calendar sharing
advanced features to ensure increased security and flexibility of corporate accounts
Documentation
Restrictions
+
the service is not available in the Vianova 1.1 profile
the maximum size of an individual mailbox is 25 GB
the service includes the number of mailboxes indicated in the subscribed Vianova profile
calendar and contact synchronization is available on Microsoft Outlook, on Webmail, and on all mobile devices compatible with the ActiveSync protocol
Vianova does not provide Level 1 technical support services on email clients for PCs (e.g. Microsoft Outlook, Mozilla Thunderbird, etc.) and smartphones. To resolve any problems, following internal checks, it is therefore necessary to ask your network administrator or the company responsible for maintaining your company's LAN to contact our Customer Service team
the Antivirus service protects your PC from viruses contained in email messages but not from viruses that may be found elsewhere (e.g. when browsing dangerous sites, external hard drives, etc.); we therefore recommend that you install antivirus software on your computer and immediately delete email messages that contain attachments of dubious origin
the maximum size of an email message managed by Vianova's systems is 50 MB, but other providers may set lower parameters (typically less than 10 MB) and may therefore reject messages that exceed this size
Calendar Sharing is only possible between accounts within your domain
the 'send as' feature can only be used between users of the same domain configured on the Mail platform
restrictions on receiving email from domains other than the corporate domain do not apply to accounts included in groups or aliases
Notes
+
'Mailbox' means an account configured with the ActiveSync or MAPI protocols
Mail services are activated following the installation of the lines, with time frames and methods to be agreed with the customer
the activation of the Mail service for domains not hosted by Vianova requires the modification of the MX records in the DNS by the domain registrar
the Antivirus and Anti-spam service can be activated and deactivated independently at any time from your Webmail
the Antivirus and Anti-spam service sends a daily email reporting the messages blocked in the previous 24 hours
the operations included in the Migration Support service can be carried out independently by consulting the Mail manual
in the Support section of the site
Note for POP3 users
messages blocked by the Antivirus and Anti-spam service can be viewed via Webmail