Vianova Connect
Professional data access for companies
It is the Data offer for companies of any size that want to take advantage of a professional connection to the internet.
Professional data access is achieved by activating a dedicated line in FTTx technology with speeds of up to 1 Gbps downstream and 100 Mbps upstream, connected to a Vianova or Cisco router with dedicated UPS.
The line is established on Vianova's proprietary high-capacity transport system, fully redundant and constantly monitored by the Network Operation Center (NOC), to ensure the highest levels of reliability and service continuity.
Connect allows you to create a network architecture that can be modulated and integrated with Vianova services, according to the needs and size of your company.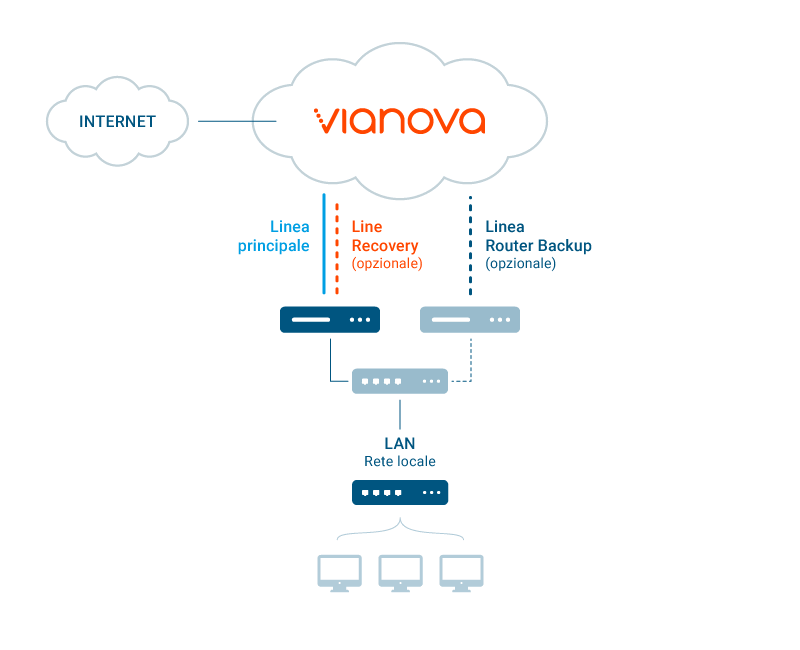 In summary
professional data access up to 1 Gbps in downstream and up to 100 Mbps in upstream
1 public IPv4 address
Vianova or Cisco routers constantly monitored and updated to the latest software releases
dedicated UPS
access
bandwidth
installation
fee
monthly
amount
Mbps
euros
euros
1000-100
250.00
55.00
Radio Option
In areas with coverage, the access line can be replaced with Radio access offering up to 100 Mbps downstream and 20 Mbps upstream.
activation fee: 120.00 euro if activated upon profile sign-up, or 400.00 euro if activated later
additional monthly amount: 35.00 euros
Additional IPv4 public address
You can request additional IPv4 addresses in addition to the one included.
activation fee: included
monthly amount: 4.00 euros for each additional IP address
Included services
Discover the package of services included in the Connect offer
Optional services
Integrate your offer with services that enhance the performance and security of your line
Combine your offer
with useful solutions to meet the most advanced needs of your company
Limitations
+
the services covered by the offer are only provided following the successful technical verification of the lines
the access speed depends on the quality of the lines, the available technology and the distance of the site from the area exchange or street cabinet
the Internet browsing speed depends on the network congestion level and the server to which you connect
access will be enabled based on the best available technology in the area in the following order:

FTTH with speeds of up to 1 Gbps downstream and 100 Mbps upstream
FTTC with speeds of up to 200 Mbps downstream and 20 Mbps upstream
Notes
+
the activation and installation fees can be paid in installments for up to 36 months, interest free
the activation fee for the Radio option includes the supply of a pole of up to 3 meters or a wall support, plates or brackets to fix in place the pole and plugs, 40 meters of cable, and 4 hours of labor (further supplies will be quoted on a per-project basis)