Line Recovery
Ensure operational continuity with a backup line
Ensure operational continuity with a backup line
Guaranteeing operational continuity for our Customers is a crucial element of what we offer.
For this reason, all Vianova solutions with more than five channels include the Line Recovery service, which intervenes automatically if one or more lines experience a fault.
How it works
the service is provided through a combination of two or more connections in failover or bonding mode using xDSL, FTTx, or Radio technology
in the event of a line outage, the equipment automatically switches Voice and Data services to the other connected lines while simultaneously sending a fault report to the Vianova NOC (Network Operation Center)
the Customer Service team contacts the Customer to gather information, and the NOC takes charge of the fault within 15 minutes
as soon as the fault is resolved, the equipment automatically restores the Voice and Data services to all available lines
Line Recovery Option for Vianova 1.1 and 1.5 profiles
The option can be activated, in areas with coverage, using xDSL, FTTx or Radio technology.
activation fee: Euro 120.00, reduced to Euro 80.00 if activated upon profile sign-up
monthly amount with Voice and Data backup: Euro 35.00
Radio access
activation fee: Euro 280.00, reduced to Euro 180.00 if activated upon profile sign-up
monthly amount with Voice and Data backup: Euro 70.00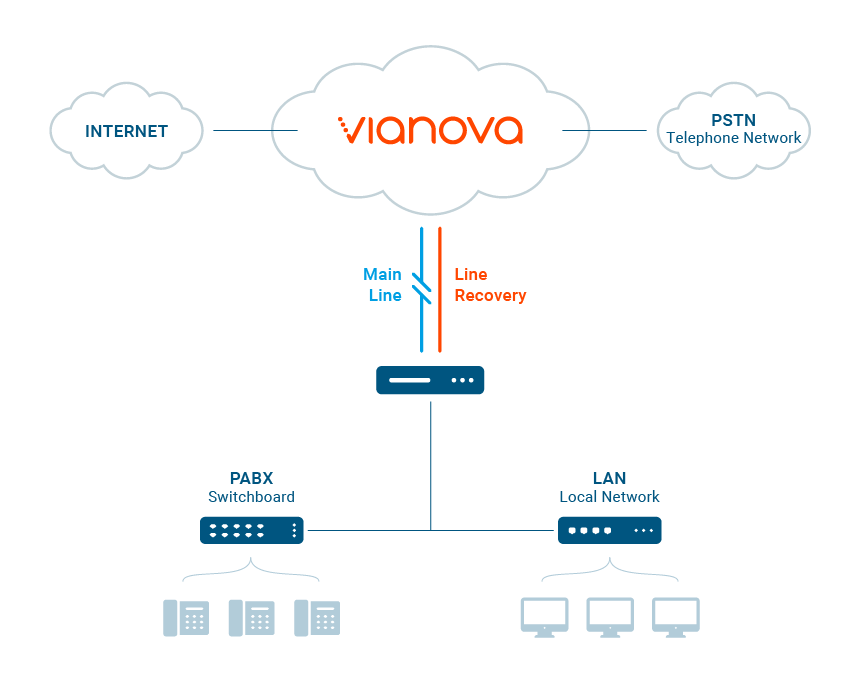 Restrictions
+
in the event of a line failure, ongoing telephone communications may be interrupted for a few seconds
in the event of a fault in other elements of the plant chain (cable ducts, other equipment, etc.), the service may not work
if twisted pairs are temporarily unavailable at the Customer's site, the Line Recovery service may be able to be carried out following Number Portability, which frees up twisted pairs previously used by old lines
the Line Recovery service activated with the BGP comes into operation around 90 seconds after the main line failure
in the 1.1 and 1.5 profiles, the Line Recovery service is optional and the xDSL line or backup Radio access is activated only in the event of a main line failure
in the Vianova 1.5 profile with symmetrical SHDSL access, the Line Recovery service is implemented with certification of ADSL access
in Vianova Project and in company sites those with access using FTTx technology, the backup line is activated only in the event of a main line failure
Line Recovery service with Mobile access is available only with Vianova Profiles 1.1 and 1.5 and with Vianova Connect
Line Recovery service with Mobile access can be activated only with SIM Vianova
Line Recovery service with Mobile access can be activated only with 4G coverage with good quality signal (-100 dBm)
Line Recovery service with Mobile access activates itself only in case of failure the main connection and doesn't contribute to reaching indicated access speed
in Line Recovery service with Mobile access, voice service is "best effort"
Notes
+
Router Backup service allows Voice backup in combination with Vianova Profile or Vianova SIP Trunk