Cloud
Your data and applications, always available and secure
Vianova Cloud is an IaaS (Infrastructure as a Service) service that allows you to share the resources of a powerful network infrastructure of physical and storage servers installed at the Vianova Data Centers, fully redundant and permanently connected to the internet.

Thanks to Vianova's proprietary Dark Fiber network, powered by DWDM technology, the Data Centers hosting the Cloud services are bound with guaranteed speed to the POPs active throughout the country.
The combination of connectivity and Cloud Vianova allows you to take advantage of a secure Cloud, capable of constant low latency in the transmission and reception of IP packets.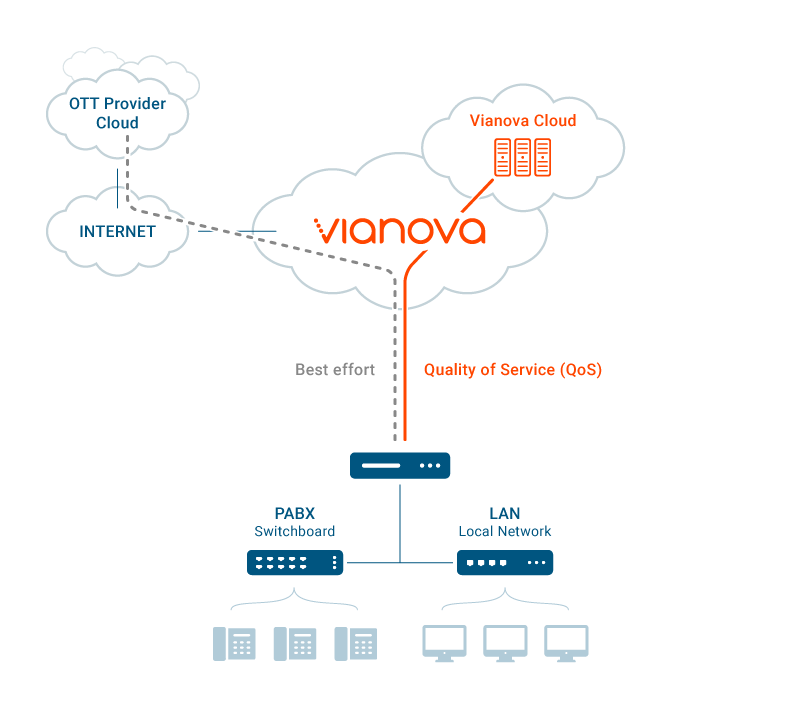 At a glance
Service performance between locations served by Vianova and Cloud: latency less than 20 milliseconds, number of max hops equal to or less than 2, packet loss less than 0.1% per month
1 public IP included for each server
3 network cards included
100 Mbpsof internet bandwidth included
Unlimited traffic included
Installation fee included
Possibility to create a server network through dedicated virtual LANs
Possibility of creating, on a project basis,private networks between Colocation devices, Cloud servers and devices installed at the Vianova Customer offices
Ability to create snapshots to use as a recovery point
Possibility to protect your data with an encrypted, compressed and deduplicated Backup system with dedicated space
Web access to servers via remote console in the Customer Area
24 hour supervision included
Documentation
Snapshot Option
The service allows you to create one or more snapshots of the Virtual Machines at any time, which can be used for software upgrades or updates, which allow recovery in the event of a malfunction. You can create multiple snapshots and set an expiration date.
activation fee: incluso
monthly amount: 0.054 euro/GB
Backup Option
The service allows you to protect your data with an encrypted, compressed and deduplicated backup system. You can backup the entire Virtual Machine and set the backup frequency and retention. A dedicated reporting service allows you to check the space occupied at any time..
activation fee: incluso
monthly amount: 0.101 euro/GB
Restrictions
+
the Quality of Service (QoS) for data access to resources in Cloud i guaranteed only for the offices that use Vianova connectivity
some templates include software applications that require a paid license to use
operating systems can only be installed on 'fast' disks, the minimum size of which depends on the operating system selected
the minimum duration of the service is one hour; times are rounded up to the next full hour
once the Cloud Server has been created, the disk space can only be increased
on Windows operating systems with SQL Server, the maximum number of configurable CPUs is 4
the maximum number of fast virtual disks is 4, with maximum capability of 1 TB each
the maximum number of slow virtual disks is 4, with maximum capability of 1 TB each
Notes
+
Pisa Data Center was designed and built according to Tier IV standards
data traffic between offices served by Vianova and Cloud resources travels on Vianova property network and doesn't travel on public internet
latency is measured between the routers in the office served by Vianova and Data Center (One-Way Network Latency)
access to console is available with all main browser and without plug-ins
'allocated resources' means all Cloud resources which, although not in use, have been reserved for the Customer (e.g. disk space and CPUs), even when the server is off
snapshots are automatically stored in the SAN along with the virtual machine data. The Customer can create one snapshot at a time, which is stored in the memory for 7 days. The snapshot is stored on Vianova's disk space rather than the Customer's
the Cloud platform was created in collaboration with Vola spa, a company belonging to the Vianova Group
Technical features
+
'fast' disk space with unlimited bandwidth over 200 IOPS (Input/Output Operations Per Second), built on geo-redundant SAN architectures with high-capacity cache memory and disk arrays designed to guarantee the highest performance levels
'standard' disk space with unlimited bandwidth up to 200 IOPS, built on geo-redundant SAN architectures with disk arrays designed to guarantee the highest capacity levels
resource virtualization via VMware hypervisor