As of February 28, 2020, Welcome Italia has adopted the Organization, Management, and Control Model pursuant to Legislative Decree no. 231 of June 8, 2001
The Model consists of:
the General Part, which includes the description of the regulations contained in Legislative Decree no. 231/2001, the indication – in the relevant parts for the purposes of the Decree – of the legislation specifically applicable to the Company, the description of the offenses relevant to the Company, the indication of those to whom the Model is addressed, the operating principles of the Supervisory Body, the establishment of a penalty system dedicated to monitoring violations of the Model, and the indication of the Model's reporting and staff training obligations
the Special Part, which consists of Control Protocols relating to each at-risk process, and which is intended to prevent relevant offenses as part of these so-called 'at-risk' activities – i.e. activities that have been deemed by the Company to involve a risk of offenses in light of the risk analyses carried out
the Control & Risk Self-Assessment, aimed at identifying at-risk activities
the Code of Conduct, which contains the general principles and rules of conduct which the Company recognizes as having positive ethical value and with which all those covered by the Code must comply: the Board of Directors, employees, Partners, and all those who operate on behalf of the Company, either directly or indirectly. The Code complies with the provisions of Legislative Decree no. 231/01, in accordance with the 'Guidelines for the construction of Organization, Management, and Control Models', developed by Confindustria, issued on March 7, 2002 and updated in March 2014.
the Disciplinary System, designed to sanction violations of the principles, rules, and measures set out by the Model, in compliance with the applicable CCNL (National Collective Labor Contract) as well as with the applicable laws or regulations
the Statute of the Supervisory Body
the Catalog of administrative offenses and predicate offenses for which corporations are liable.
All the information and data contained in the Model is the exclusive property of the Company and is covered by privacy and confidentiality restrictions. Anyone using it improperly or not in compliance will be held liable.
The Supervisory Body is composed of:
Dr. Michele Giordano – President
Dr. Andrea Marraccini
Dr. Laura Giunti
To contact the Supervisory Body:
To report offenses or irregularities: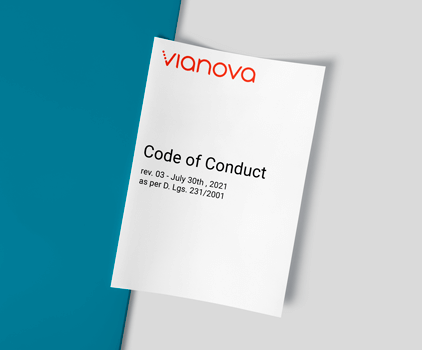 Download Code of Conduct (321 KB)